Hi, I'm Mark.
As a first-generation American, I'm good at many things like speaking Italian, eating my family's Sicilian cooking, and of course, talking with my hands. But there's exactly one thing I'm GREAT at, and that's earning my clients' trust by delivering the best mortgage rates and the best mortgage experience.
"Sure, Mark. Everybody says they're the best. What does 'best' even mean anyway?" Okay, that's fair. I wouldn't blame you for asking that.
I believe that being the best means that I am passionate about solving problems, and I solve more problems for more clients than 90 percent of my peers. I funded more than $260 million in mortgage volume in the last 36 months, and I'm extremely proud that more than $50 million of that was for military veterans. Before ranking in the top 10 percent of all loan originators nationwide while at US Bank and the top one percent of producers at Mortgage Lenders of America (now Zillow Mortgage), I owned a mortgage brokerage. If there's one thing I've learned throughout my more than 20 years of experience in this industry, it's that everyone has a problem they are trying to solve.
Borrowers turn to me because they…
Just want to get a loan, simply.
Don't want to deal with the hassle and stress of the loan process.
Have had it with lenders who don't answer their phones, are poor communicators, and keep them in the dark throughout the loan process.
Don't trust mortgage brokers who seem salesy, slimy, and only in it for the money.
Are frustrated with lenders who make it impossible to compare their loan offers to others.
Feel hopeless or embarrassed about their current financial situation and want help tackling it without judgement.
Are tired of being ripped off by big banks who pad their prices to finance layers of bureaucracy and ad budgets.
Sound familiar?
I've found amazing success in my field because I'm deliberately different than the alternatives in the marketplace.
I answer my phone. No phone trees, pressing 0 for an operator, or terrible hold music on a loop.
I listen. Tell me what you're trying to accomplish, and I'll work hard to get it done for you, simply.
I'm honest. I'll show you exactly how your rate is determined. I don't make extra commission for higher rates, so it's in both of our interests to get you the lowest one.
I'm relentless. If you have a unique situation (self-employed, lower credit, unique circumstance), I will uncover every option to get you into the home you want or get cash out of the home you have.
Text or call my mobile anytime to get started on solving your home loan problems. It only takes a few minutes to realize that things are different (and better!) over here. Don't settle for anything less when it comes to the biggest financial decision of your life. I look forward to working with you!
See What Our Customers Have to Say
Mortgage Tools at Your Fingertips
Enjoy having all your mortgage tools in one place and move the process forward with a click.
Simply tap to apply from anywhere
Click to calculate the estimated cost of your mortgage payments
Scan and send loan documents with ease and security
Check your loan status and take the mystery out of the process
Direct access to your loan officer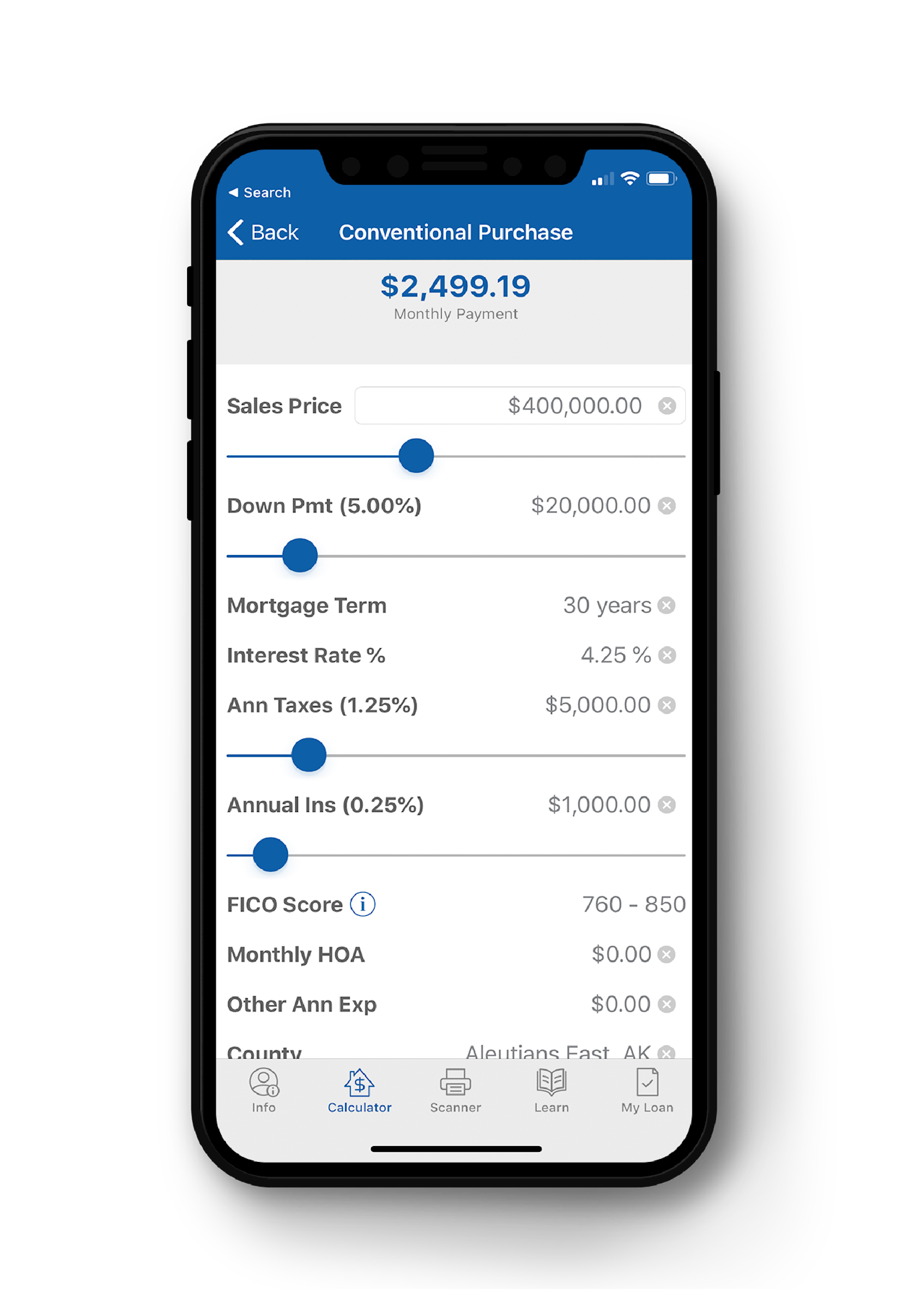 Mortgage solutions to fit your needs
Why choose Mutual of Omaha Mortgage for your home loans?
Working with a brand you know and an advisor you trust
Personalized service through the loan process from an experienced mortgage expert
Manage the entire loan process from anywhere with our easy-to-use mobile app