Moving Trends & Home Affordability.
07.29.2021 | Category: Homebuying
If there's anything the last year has taught us, your home and the city you live in can have a big impact on your happiness, finances, and overall quality of life.  After a year of lockdown and stay at home orders, you may be reconsidering where you live and work.
With many companies committed to give employees the flexibility to work from home permanently, your home buying options may now extend beyond your current city and region. If you are considering a change, it can be helpful to know where people are moving.
Moving Trends
According to data from the 2020 Migration Report from North American Moving Services, despite the pandemic, moving patterns and volume were similar to the trends seen over the previous 5 years.
At a high level, the report found that people continue to leave the North East and Illinois for the sun belt states, and residents of California are leaving for Idaho and Texas. Data from the Census Bureau Annual Estimates of the Resident Population for the United States shows similar trends with population in the Northeast shrinking by over 200,000 in the last two years, while the population in the South grew by over 2,000,000 people.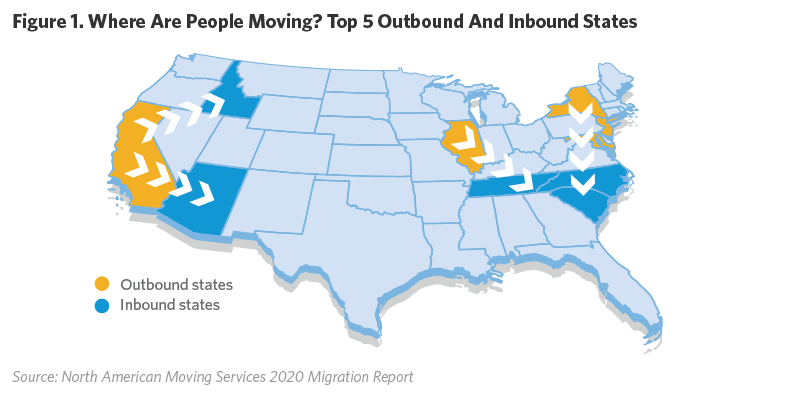 Why Are People Making the Move?

Affordability – In many places across the country families struggle with high rent costs, credit card and student loan debt, making it difficult to find an affordable place to live, let alone buy a home. This can leave residents in higher priced areas to look elsewhere to lay down roots. Thankfully, there are areas of the country with thriving economies and affordably priced homes that can offer the right work/life balance.

Job Opportunities – When it comes to work opportunities, not all states are equal. For many, job opportunity and availability are still the main determining factors in deciding where to live. Finding a city or town that offers good-paying jobs and plenty of job opportunities can be life changing.

The Right Spot – For many, where your job was located, was not necessarily where you like to spend your time. With the Covid-19 pandemic, and an expansion of work from home capabilities, many have the opportunity to align where they work, with where they like to spend their time. Whether that's a place by the beach, a mountain retreat, a cozy cottage in the country or an urban oasis – the possibilities are endless.
While these aren't the only reasons to consider a relocation, they can be important factors in finding the right place to settle down.
Moving for Home Affordability
We know that for many considering relocating, cost of living and home affordability are two driving factors when selecting where you want to live. Moving from a high-cost area to a city that is more affordable may bring homeownership within reach for the first time, or it might offer you the opportunity to upgrade your existing home.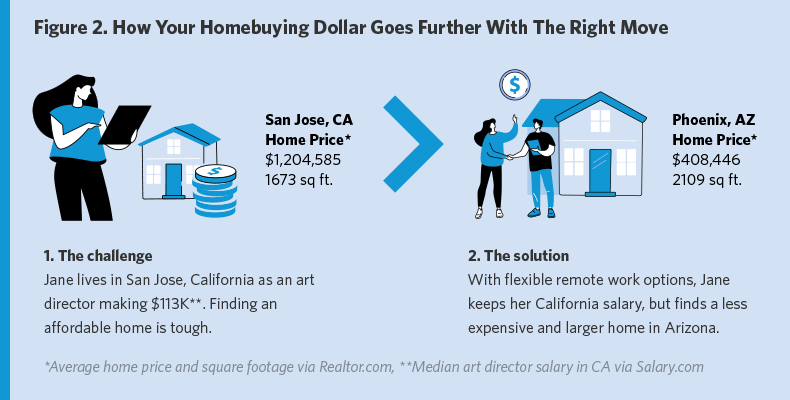 Based on the data from the 2020 migration report, we wanted to take a deeper look at what homes cost in some of the areas that people are moving to. To do this, we used data from Realtor.com for the median listing price. We ran those numbers through our proprietary income simulator to determine the income needed to qualify for the median priced home. Here's what we found:


Metro Area

Median home price

Median Square Footage

Annual income required to purchase the median priced home

Metro Areas People are Moving To

Atlanta-Sandy Springs-Roswell, GA

$345,021.54

1999

$62,298.00

Dallas-Fort Worth-Arlington, TX

$353,114.92

2306

$63,759.00

Denver-Aurora-Lakewood, CO

$539,555.54

2375

$97,423.00

Houston-The Woodlands-Katy, TX

$325,196.00

2357

$58,718.00

Phoenix-Mesa-Scottsdale, AZ

$408,446.21

2109

$73,750.00

 
 
 
 

Metro Areas People are Moving From

Chicago-Naperville-Elgin, IL-IN-WI

$336,294.25

1710

$60,722.00

Los Angeles-Long Beach-Anaheim, CA

$986,415.08

1877

$178,109.00

New York-Newark, NY-NJ

$601,123.67

1021

$108,540.00

Riverside-San Bernardino, CA

$451,070.42

1973

$81,446.00

San Diego-Carlsbad, CA

$777,220.83

1775

$140,336.00
The data painted an interesting picture. First, the income needed to qualify to purchase a median priced home in the areas that people are moving to is more in line with national averages. The second big take away, is that homes in the areas that people are moving to are bigger. Square footage seems to be a driving factor, especially after the pandemic year and as people work increasingly from home.
If you are considering a cross country move this year and would like some help running the numbers please don't hesitate to reach out to one of our loan officers.
We are happy to help you better understand how much house you may be able to afford based on your income, assets, and liabilities. We can also help you run different loan scenarios, and better understand how your property taxes might changes from one state/county to the next.
Explore Your Possibilities
While a cross country move can be an intimidating prospect, when done for the right reasons it can be a really great decision. Homeownership can be a crucial asset that helps you generate wealth over the course of your life.
If you need help exploring your home purchasing power, we're here to help. Get started online or by phone at 1-800-24-RATES.
Methodology
Home Prices – US median list price and square footage data was for February 2021 and sourced from Realtor.com in March 15, 2021.
Income Required to Purchase the Median Priced Home - In the model we assumed a 32% front end ratio. This ratio measures the annual gross income required in order to be approved for a loan. The gross income required is calculated by totaling the monthly P&I, property tax, homeowner's insurance, and any HOA fees, divided by the front-end ratio, multiplied by twelve. To run this calculation we assumed a 20% down payment, 30-year fixed loan terms, with an interest rate of 3.25% and a property tax rate of 1.10% .
Get pre-approved or start your home loan application today!
It's never been a better time to explore your buying options
Get Started
Why Choose Mutual
What makes Mutual of Omaha Mortgage the right choice for your home mortgage?
Click Here
Why choose Mutual of Omaha Mortgage for your home loans?
The confidence of a name trusted by millions of customers over 100 years
Personalized service through the loan process forms an experienced mortgage expert
Manage the entire loan process from anywhere with our easy-to-use mobile app