---
The Mutual Military Benefit:

LOWER INTEREST RATES (FRIENDS AND FAMILY PRICING)2

GENEROUS REALTOR REBATE ON YOUR HOME3
1. If the loan is not a VA Loan, lender fees are $275. Lender fees is defined as origination and processing fees. 2. Veterans receive the same loan rates and better fees than Mutual of Omaha Mortgage friends and family, typically .25% lower rate than the market! 3. Rebate subject to state law. See the program rebate rates and terms here.
What are the advantages of VA loans?
More than 20 million veterans and their families have benefited from VA loans for more than 70 years. Mutual of Omaha Mortgage's mission is to increase that number exponentially. We believe that too few qualified veterans and active-duty service members use their VA home loan benefits. It is our civic duty to find a home loan veterans can afford, and to help them achieve their goals of home ownership.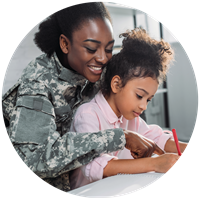 Who qualifies for a VA loan from Mutual of Omaha Mortgage?
U.S. Military Veterans or Active-Duty service members, with qualifying service records, and qualified spouses as determined by the Department of Veterans Affairs (VA).
You may be eligible for a VA loan if you:
Served as little as 90 days on active duty
Meet VA-defined Reserve/National Guard specifications with 6-year service
Are a spouse of a service member that died in the line of duty, or has a qualifying service-related disability.
Match suitable credit, income, employment requirements and have a Certificate of Eligibility